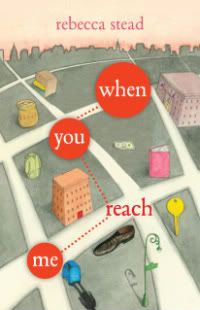 When I first started this blog, I assumed I'd be writing only about books. After all, books are what I know and sell. Turns out what I apparently most like to talk about, however, are movies, but now that I've given myself a stern talking-to regarding cinema prices I will have to limit them. Or, so I tell myself until next Friday when I start to get a hankering for a Frozen Coke and a sweaty ticket box queue. I have read books, but they've mostly been okay, not really good enough to get into a flap about or terrible enough for me to enjoy getting my teeth into. Until now, when—as always—it's a children's book that reminds me just how excellent those papery things what have words in them can be.

I sat down to read the start of Rebecca Stead's novel over lunch last Monday (rye bread toast with avocado, tomato, salt and pepper, because I know you're interested) and put it down briefly when I decided I should do some real work, then decided instead that I should just maybe read a little bit more of the book and snack on some bagel crisps. Well, the crisps were disgusting (damn you Burns & Ricker) but the book made me forget them completely, and I finished it in one fascinated sitting.

When You Reach Me

tells the story of twelve-year-old Miranda, in sixth grade at a New York City school in 1978. She and her mother live together in an apartment above her oldest friend Sal and his mother Louisa; Miranda's mother has a great boyfriend called Richard; everything is going fine. Then one day, as they're walking home from school together, Sal is confronted by another kid and punched squarely in the stomach and the face. Miranda helps him home and is worried, but the incident changes their friendship and Sal will not talk to Miranda. While Miranda tries to figure out why this is happening, and gains some new pals in the ethereal Annemarie and smartass Colin, another, more unexpected storyline is building up—one involving notes left for Miranda with predictions that can only mean one thing. And that is time travel.

I first heard of this book from a co-worker who was explaining it to myself and a customer. It sounded great and she clearly enjoyed reading it, but the time travel aspect threw me off a little. I spent all of high school paying attention in English and reserving all of my staring-moodily-out-of-the-window for science classes, so while I know they didn't teach time travel in Science (at least not at my high school) I always feel a little out of my depth reading science fiction, even that aimed at people I am old enough to parent. But

When You Reach Me

handled all discussions of time travel with such a perfect touch that it explained the necessary concepts clearly without ever sounding patronising, bar snippy character Julia who tries, along with wise Marcus, to explain it to a baffled Miranda, but eventually stomps off saying, "I'm glad someone here has a brain." The time travel is both an important part of the story but it never threatens to overwhelm the reality of being a kid in a world where relationships are difficult, and that is why it is so great. Mira loves her mother but is embarrassed by their home in comparison to her friends' apartments; she begins to fall in love; she fights with her new pals. She also learns a lot and even when she is angry or in the wrong, she is still a perfectly human heroine who has a good heart. While I haven't been twelve for a while, reading it took me right back to what conversations and relationships were like when I was the same age. Life could be funny and upsetting and comforting and awful and the most exciting thing in the world.

When You Reach Me

is a beautiful, funny, read that doesn't sugarcoat reality, making it more than accessible for older or adult readers while still being wonderful for the upper-primary age group it depicts.