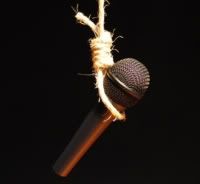 Every year Melbourne hosts its International Comedy Festival. Every year we declare we are going to go, and every year it is only when one of our friends buys tickets for us and tells us to meet them in the city at six o'clock that we actually participate. And so it is again this year, when my friends Sarah and Brett, down from Canberra for Easter, declared we were going to see Capital Punishment at the Town Hall on Saturday night. And like every year, I make refreshed vows that an hour's worth of pants-wetting giggles are worth doing more than once and I should stop being lazy.

Because you, dear reader, are my friend, I will only be honest with you here.

Capital Punishment

is a comedy act from Canberra, where my friends are from, and they are pals with a member of the act. This doesn't mean I'm biased, though; my friends don't read this blog and while I got to shake hands with said member, if they ran into me again in the street and I said hello they would probably think to themselves, "Unfamiliar stranger, possible stalker, run away," whilst speeding up their walking pace and waving politely and awkwardly.



Capital Punishment

is one hour and five acts long; basically, it's a five course meal where every dish tastes divine but doesn't fill you up too much for the next one. It opened with Herbie and the Coleslaws, aka Hamish and Lizzie, a guitar duo who sing such tunes as "Post Orgasm Blues"—where the female part sings her "No Orgasm Blues"—and spin tales of Paris Hilton's dog and suburban egos with their really quite excellent guitars. They don't hold back, and their tagline is that they "put the Pee in Politically Incorrect", but when they ask you to sing along, you really can't resist, because it's great fun. Following them was Dan Connell, all height and hilarity, riffing on virginity auctions (his current going price on eBay being $2.85) and suggesting a bit of penis puppetry you'll be unable to resist attempting back at home. Next up, Dayne Rathbone, resplendent in a tucked-in shirt, wire-framed glasses and the most awkward expressions ever seen in a comedy festival, delivering his entire act with a straight face. Chris was laughing so hard he couldn't actually physically laugh but just kind of vibrated beside me with tears down his cheeks. Rathbone read aloud a story in unerring monotone that seemed like an eight-year-old's creative writing paper and even handed out accompanying illustrations ("This is if you crossed a shark with a cyborg and a penis") then followed that with a short yet Pulitzer-worthy play starring a poor member of the audience who could barely stop laughing enough to read her lines. Emo Parsonson was onstage next, bouncy and unfazed by perceived silences ("This is why I got into comedy. The peace and quiet!"), then explaining his emotional baggage to the poor woman at Canberra airport in a rant that veered close to cliché and then ended with everyone almost falling off their seats. Last was another musical duo with the added thrill of being identical twins: The Stevenson Experience, Benjamin and James, singing love songs to the couple in the third row and bouncing off each other, Benjamin playing piano and singing lines of tenderness, James on guitar singing the backup vocals with the lines mixed up and the audience in tears. Also:

You're Beautiful

by James Blunt, sung in Indian, German and Russian. Then the hour's over and your stomach hurts from laughing, but you feel refreshed and happy.

Frankly, go see it. I'm giggling just remembering it. And afterwards, head to the Hoddle Room, a post-act bar which will probably be full of comedians and Australian celebrities having a beer on the balcony. I was only there for about three minutes and saw Dave Hughes, Stephen Curry, and some other stars—but I won't say who. You know I hate to give you spoilers.