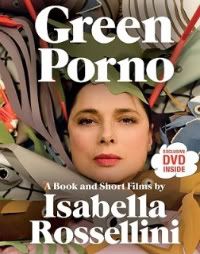 Now, boys and girls, we are going to learn about reproduction. No, no, religious fundamentalist parents in the back, sit down and be calm. This isn't a lesson about condoms and abstinence. This will be a lesson about how marine animals get it on, and here is your instructor, model and actor, Isabella Rossellini. (pause for applause)



This is what my lesson notes would look like if I was an educator and I was teaching biology. Luckily for everyone, I am not. It's unlucky for some, however, because

Green Porno

's educational experience in marine mating rituals—told with paper sculpture and puppets and starring as part of the mating couple/threesome/spawning festival is Isabella herself, all dressed up and waiting for a good time. Or a bad one, if you're a limpet: the girl limpet is on a rock, many other limpets come and attach themselves to her, and become male; they all have a frenzy of mating and then the girl dies. But it's okay, because the limpet closest to the dead girl will become a girl, and it all begins again; a big fiasco of bonking and carnage, kind of like a teen horror movie. Such are the things I have now learned from

Green Porno

.



Green Porno

started as a series of short environmental films destined for the internet; Rossellini did not realise that they would be as popular as they are. (A beautiful star doing a series of sex-saturated movies? Who would be interested in such a thing? Only everyone, silly Isabella.) One experimental series became two, then three; the first two are included on a DVD that comes with the recently-released book. (Series three is on the marine life that the book explores.) This book manages to be shocking, because it uses scandalous words like "anus" and "vagina" and has a Rossellini dressed up as a boy whale with a six-foot penis having sex with a girl whale made out of cardboard; still, it is family-friendly in that it only conveys (albeit in a papery way) what actually happens when animals mate, as, you know, they generally do no matter how horrified prudish people are about it.

The sculptures are actually quite lovely. Everything bar Isabella herself is made of paper or foam rubber; even the kitchen she stands in while contemplating a tasty plate of prawns (before learning about bycatch and consequently losing her appetite) has paper cupboards and drawers and cooktops. One of the most beautiful stories is the sad tale of the squid, who is having a passionate ten-armed hug—"but not all of them are arms, if you know what I mean"—and then rises to the surface only to be caught by a big paper fishing trawler. The squid, with Isabella inside, lights up with different colours depending on its mood: red for angry, and a glorious white when it's in love (that is my own romanticised opinion of horny, don't listen to me); the night sea is a gorgeous deep blue and even the boat, enemy as it is, is strung with fairy lights and brings a lovely ethereal feel to the book. The effort that must have gone into these is astounding, because they look incredible, though still retain a humorous DIY-feeling, like the boy anglerfish portrayed by Isabella with an enormous rubber nose and a kind tooth on the top of her head, which is used to penetrate the girl fish's belly so the boy fish can fuse itself to her (and what a shame our own mating rituals aren't like this, am I right?)

The final chapter is on genitals, starring many cardboard creations of the many terrifying-looking marine penises that are out there. It ends on a discussion that touches on the issue of consent, even though in the marine world it seems to be more about getting fought for than picking a guy out of a crowd, and then finishes with talking about how women have their own tunnel, "and it would be a labyrinth. It's intricate and it's unique. And it's species specific...so that I am not screwed by a bear." Hmm, perhaps not so family friendly there, unless you want to give your small chidren terrible nightmares.

Frankly, this strange book is absolutely entertaining, and with her side notes and facts on overfishing and other marine dangers, it doesn't hide that there's an important message too, and one that Isabella—now a vegetarian—took seriously. The accompanying DVD will have you snickering away to yourself as Rossellini plays the different animals, though it's also something you perhaps don't want to show during a family birthday. As an earthworm, defecating and peeing and then fornicating, saying slyly: "To have babies, I will have to mate with another hermaphrodite...in the sixty-nine position." As a snail: "I can produce darts. I use them to inflict pain on my partners before mating. It turns me on." The Sundance Channel's Youtube has a few of these shorts for you to watch and be unable to resist commenting "OMG LOL" on. This book is not cheap, yet worth every penny, especially when you whip it out at your next dinner party to show off to your friends how cool you are. Because you will be with this in your collection.