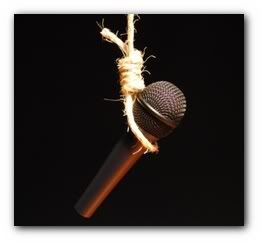 When you're a bit sneezy and sniffly and have perhaps slept a bit too much on a bright clear Saturday, the best thing would be to maybe go for a brisk walk, or make some kind of refreshing salad, or snort coffee, or whatever else it is that normal people do. But of course the best solution to sulky illness is always the same: comedy. A good laugh will cure all ills. There, I just saved you a trip to hospital about that bleeding head injury. But I'm about to cost you twenty dollars per person anyway.

Saturday night at 10:45 saw Chris and I at the Town Hall to see Capital Punishment for the second year running. They're a group of current/former Canberra locals who spread five acts over one hour and are kind of like when you get the Five Flavours Lifesavers from the milk bar and you're super excited to get pineapple, raspberry, watermelon and orange, and you think you'll get the gross cherry one, but then suddenly it's another watermelon, and you're all "YES!" and cheer and everyone in the street judges you on your unbridled enthusiasm. Rafe Morris bookends the show, playing an intro song we sadly only caught the audience reaction to through the door (lesson: just pay for parking in the city during the Comedy Festival, because there really is nowhere to put your car apart from on top of those pedestrians who walk out in front of you drunk) and finishing the gig with a trio of love songs that will pull at your heart strings and then cause some sniggering when you realise who he's really in love with and that perhaps some of his soulful yearnings are more criminal in nature. He's actually an amazing musician, which did have me sometimes doing that thing during songs where I'm too busy going, "Oooohh, isn't this lovely-sounding" to actually pay attention to lyrics, which is of course my own fault, and why I can
't sing along to any songs and should be banned from trying
.

Emo Parsonson hails from the bush and is happy to hark back to his childhood for gags, recounting his father's slightly unkind views towards women, his own current parenting style, and my own personal favourite part, where he compares his new cushy city office job's OH&S (Occupational Healthy & Safety for the uninitiated) acronym compared to the country, where, as he points out, it stands for "OH....Shit!" (I probably think this is hilarious because I like punning on it too, like yelling "NoH&S!" whenever someone at work picks up too many books or climbs a ladder awkwardly.) Emo has a relaxed, laid-back style, is great at audience interaction, commendable after being hollered at by the woman next to Chris, and despite the causal demeanour occasionally dissolves into fast-paced rants that cause the audience to get a bit unbalanced on their (frighteningly high) seats.

Greg Kimball's tales of the pressures to have kids once you're in your thirties (I'm shocked to hear this, I thought it was once you'd had a partner for longer than three months that everyone was on your back about it), and his own experiences as a childcare worker, totally killed me:
declaring he took a group of kids to see

Toy Story

"or something, I don't know, I was drunk" and then following it up with a kid's adventure with her folding cinema seat. It was also good to see someone wrapping up a comedy skit with an educational lesson in health involving fresh chillies and what not to do after using them; there needs to be more attention paid to these important things.

Kale Bogdanovs had arguably the best joke of the night, one that I'll try hard not to ruin for you but involved a particular Hasbro board game I
've always adored
. I think he lost about two minutes of his show
's run-time
because the audience couldn't stop giggling for long enough to let him say anything else. Otherwise, he's an amazingly articulate comedian, not a misplaced word or an "um" in sight (my own public speaking exercises sometimes contain

only

the word "um"), and his observations of movie ugly ducklings are so astute I almost let out a "hell yeah!" except that there was already someone shouting at all the acts in my aisle and I didn't want to make everyone evict us.

For something completely different, Dayne Rathbone's stilted man-child act is so well-perfected that everyone was quietly snickering before he'd even really said anything, his comic timing and beaming awkwardness building the performance in such a way that is caused the kind of laughing that's so all-encompassing it almost causes you physical pain. As he reads his self-penned book, "A Boy and His Dad", including a scene acted out with an audience member laughing so hard she could barely read her lines, each page has such an unexpected concept stuck in the middle of an everyday, flatly read sentence that I was afraid I kept spitting on the poor audience member in front of me because I kept sputtering just as I thought I'd composed myself again. Because I don't learn lessons like
"he was funny just then, perhaps he
'll be funny again?
"


In Summary: Exceeds Expectations, because even though it was funny last year, I'd forgotten how funny. There were occasional flat moments—I mean, find me a comedian that doesn't—but within another minute you were chortling/snorting/screeching/whatever-your-laughter-style away again. It's pretty blue, too, so don't go taking your eight-year-old to see it, or your eighty-year-old parents, unless you want to spend another night with them shaking their head at you and saying, "I don't know what I did wrong." Go buy your tickets here, or send them nude pictures here.