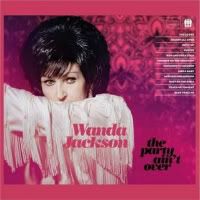 Produced and performed on by no-longer-a-White-Stripe Jack White (who is thanked in the liner notes for "having the faith in me that I could still 'rock out'"), Wanda Jackson—music's hottest septuagenarian—has returned with a new hot-pink rockabilly album for me to dance (some would term it "flail") to in my car. Right from the start, with the awesome drums and
brass burst of "Shakin' All Over", the album immediately changes the mood of a room and whoever is fortunate enough to be within listening distance. Her voice just still has so much power and brashness that she sounds like she could still be the teenager belting out tunes back in the fifties.

That first track, along with her sassy version of "Rum and Coca-Cola" (aka the only song in the world that my eighty-year-old father and I both like), constitute most of my listening, but the whole shebang is really just the most rockin thing you'll listen to so far this year. As she sings plaintively yet with such zest about being broke in "Busted", you'll want to send her money (don't, she's doing just fine and I think she just spends it all on sequins and fring
ed materials). Peppered with sharp little Jack White licks, Her more country-like ballads don't float my boat as much as the more upbeat/fast-paced tracks do—the energy of those are exactly what I love about rockabilly—but she really doesn't actually make a bad song, because she's the Queen of Rockabilly (or First Lady, apparently, which must depend on whether you're a Monarchist or not) and she is just that great. The digital "shaking" of her voice in the chorus of "Shakin All Over" bothers me a little, making her sound watery and ruining the voice that I adore so vehemently. But I'll blame Jack for that, because I am biased towards the lovely Wanda. And how couldn't you be? She's adorable, and
she dated Elvis Presley.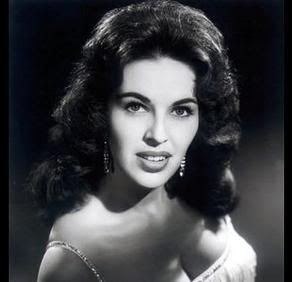 If you haven't had an opportunity to hear Wanda Jackson before, I discovered her via her song
"
Funnel of Love
"
, which was on the (sadly never released)

But I'm a Cheerleader

soundtrack. I never found that specific version, but go find the version she did with the Cramps—it's a knockout, and one of the songs I've listened to the most over the years.

In summary: Exceeds Expectations, because if I'm not listening to her, I forget just how fun her music is. And as I went to shelve the CD I noticed I have three other albums of hers that I'd forgotten about (hidden by the cat due to overplaying?) Time for a saucy dress, some flicky eyeliner and a Wanda Jackson marathon, I think.